Mecklenburg-Vorpommern's Digital Congress — The 2nd round
Networking, sparking new impulses and initiating innovative processes — these are the goals of the largest conference of its kind across the country on the subject of the hour: digitalisation. We can therefore, for the second time, think of NØRD as the place to be for the pioneers, role models, forerunners and revolutionisers of digital concepts and strategies in Mecklenburg-Vorpommern. This year, the community will hold themed meetings via livestream in the digital space.
New ways of thinking and identifying opportunities
Shaping the digital transformation means reacting dynamically and flexibly to what is happening today. That is why the Department of Digitalisation, together with its partners, has completely redesigned the second edition of NØRD: from a two-day congress to a two-week mega online event with an even more diverse range of partners and topics. This new direction strongly emphasises the function of the Digital Congress — an exchange platform for the country's community to shape the digital MV together.
NØRD 2021 themes
More speakers wanted: Apply now!
As an expert in your field, from business, research or administration, you not only want to inform, but also inspire and enthuse with groundbreaking ideas. Cloudthinking is part of your everyday life, because only shared knowledge is good knowledge. You are confident of your digital power and wish to give cross-sectoral and cross-competence, important impulses and thought-provoking impulses to the community, enter into a dialogue and possibly initiate the next big digital innovation made in MV. The stage is set, curtains are up, livestream is on: For this year's keynotes, workshops, pitches and panel discussions, we are looking for more participants and speakers who can share their insights with the NØRD community. We look forward to receiving your application.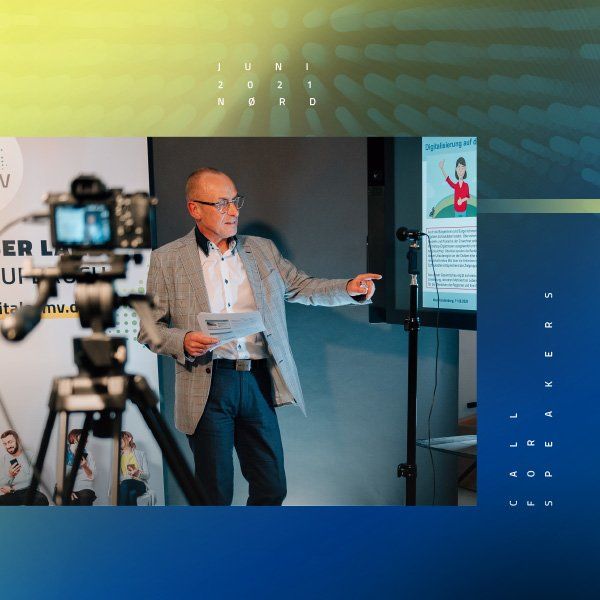 Coming together to grow together
Back in 2019, the first digital congress organised by the state government got off to a very special start: more than 120 speakers from Schwerin, Rostock, Stralsund, Greifswald, Wismar and Neubrandenburg were driving forces behind digitalisation, as well as 1,400 participants from the fields of society, business, science and politics with the latest insights and outlooks on the digital future of the country. NØRD truly lived up to its motto under the patronage of State Premier Manuela Schwesig: "Connecting MV".